Website hase been updated. We are introducing user points system that we call gems. There are multiple types of gems. The more gems you have, the better contributor to the community you are. There are some other changes too, so make sure to read this article.
The feature of rating system has been requested many times so we decided to finally implement it on our website. By doing actions on our website, you collect gems that represent how active and important for the website you are. There are three categories of gems:
redstone gems that user gets for commenting on the website,
diamond gems that user gets for posting modifications or forums,
emerald gems that are given to users by administrator for special opportunities such as mod of the week, becoming moderator or contributing something special to MCreator.
The amount of these gems is displayed on user's profile and looks like this:

User gets one redstone for each comment or forum reply, three diamonds for new forum topic and five diamonds for posting modification. We will add even more rewards in the future. User does not get gems for their actions that were made before the implementation if this system. Amount of emeralds is based on how much of them the user deserves based on the administrator's decision. If you post content only to get points, this won't help because if we remove your content, you lose your points and if you spam you might get banned so this doesn't make much sense.
The amount of gems is also shown on replies of users on forums and on About author panel on modification page.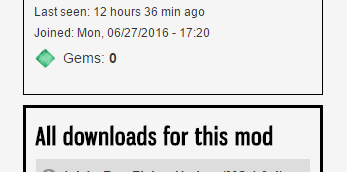 Display of gem amount on the About author panel
We have also changed the layout of some elements on the website and some icons.
We also have the idea of special role for users that will reach certain amount of gems and they would have some additional options and larger amount of disk space. We will implement this in the future if you think this would be beneficial for you. Please also leave comments with ideas for more actions that would give you gems and tell us if you like this system. Stay tuned!