Started by
FredLeon
on
Mon, 07/08/2019 - 13:23
Topic category: Mod ideas
Yea, hello...
Welcome to my cool mod idea that i will be working on in the next few days probably not  (actually it's not like i have better things to do) 
This mod is called   
The Tomb
So i will explain the mod in this image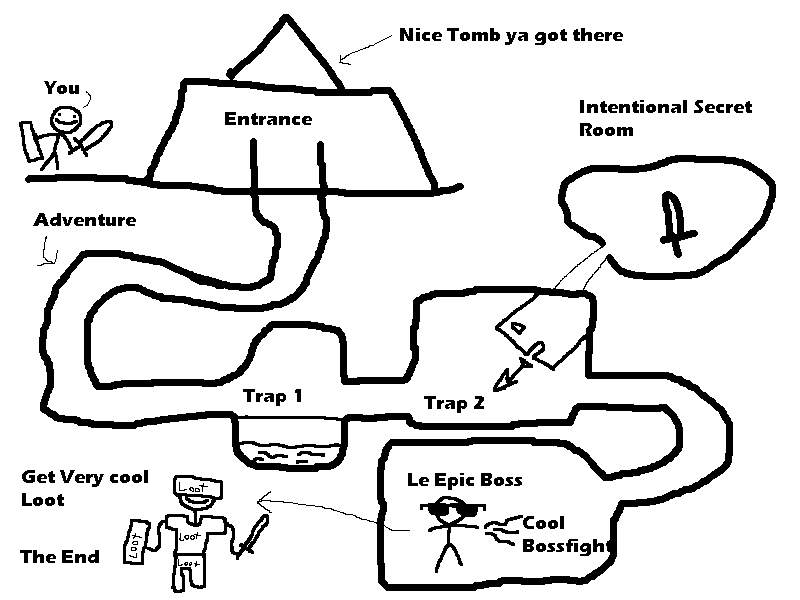 yea admire my cool art skills  now this is a list of planned things:
The Tomb structure (duh that's what the mod is about)
a lot of blocks, and when i mean blocks i mean a lot of brick variations (breakable and unbreakable ones, the unbreakable bricks will be used for the tomb walls because i don't want people to skip all cool rooms and just enter the boss room.
many items (Things found in the tomb, 
NPCs (villagers but actually minecraft human looking)
The COOL boss and maybe a mini boss
Layered Dungeon, like at the beginning you will be able to explore some of the tomb, later you will be able to unlock more of it until i get to the final cool boss.
random generated tomb   (i suck at coding and random generated things)
SO that's all i have planned for now, i will add more features later, now let's get to the questions
No
Are you taking this seriously?
When will this mod be released?
Equivalent to the amount of motivation i have (yea probably 2020)
Can i get a shoutout?
Wait, are you posting this because you need some help with the mod?
I don't need any help except coding  i can do anything
If i'm not online for maximum 30 days it's probably because i gave up or i don't have motivation to continue the mod.
Stay hydrated.