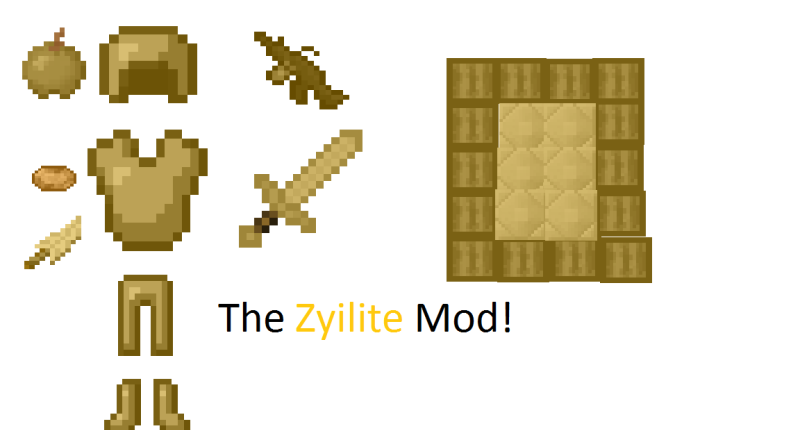 Project status
In development
Supported Minecraft versions
This is the Zyilite Mod! It has many cool features to "spice" up your Minecraft world! It includes 2 dimensions, 2 sets of armor, 1 set of tools, fuel, food, mobs, a biome, and more! If you want to add this mod to a pack that will be released to public, ask me for permission first. Thank you.
INCLUDES:
Zyilite Gem, Ore, and Block
Zyilite Dimension
Super Zyilite Dimension (VERY LAGGY, TAKES A WHILE TO LOAD)
Charred Biome
Charred Pig
Charred Pig Meat, Cooked Flesh
Zyilite Armor
Super Zyilite Armor
Zyilite Fuel
Zyilite Pick/Axe/Shovel/Hoe/Sword/All-Purpose
2 Achievements
A Zyilite Gun w/Bullets
This mod is currently v1.0 for Minecraft 1.7.10.
Modification files
ZyiliteMod_v1.0.zip -

This is v1.0 of the Zyilite Mod for MC 1.7.10.
Uploaded on: 02/18/2016 - 19:26 File size: 172.62 KB