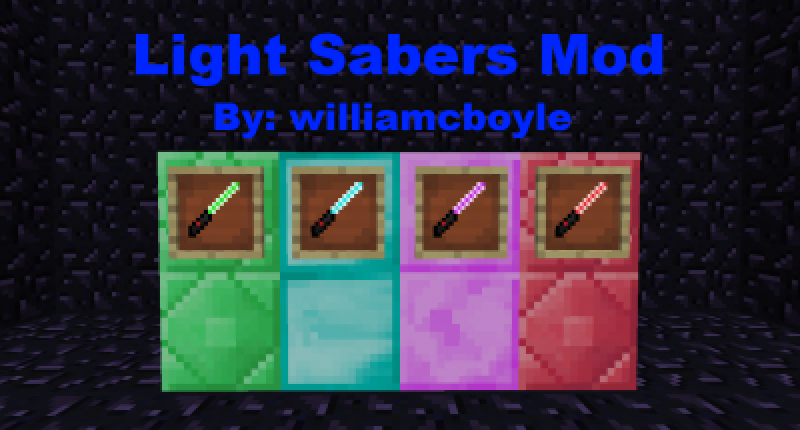 Project status
In development
Supported Minecraft versions
This mod adds in to the game 2 new ores and 4 new swords. The 2 new ores are ruby and amethyst. These meterials will help you to make 2 of the light sabers. Ruby and amethyst are quite rare. Rubies are rare as emeralds but a bit more common and amethyst is common like emeralds but it is higher than rubies. You can also make the ruby block and the amethyst block. There is 4 types of light sabers. There is the blue one, the green one, the red one and the purple one. They do all the same amount of damage ( 7 damage ). You need a light saber handle to make one light saber. You can make the rud light saber with rubies, the blue one with diamonds, the green one with emeralds and the purple one with amethyst.
This is how to make a light saber handle :
B = Block of redstone
I = Iron Ingot
[ I ]   [   ]   [ I ]
[ I ]   [B]   [ I ]
[ I ]   [ I ]   [ I ]
This is how to make a light saber :
G = Rubies, emeralds, amethyst or diamond
H = Light saber handle
[   ]   [G]   [   ]
[   ]   [G]   [   ]
[   ]   [H]   [   ]
Modification files
LightSaberMod.zip -

The Light Saber Mod!
Uploaded on: 07/23/2015 - 18:19 File size: 48.85 KB