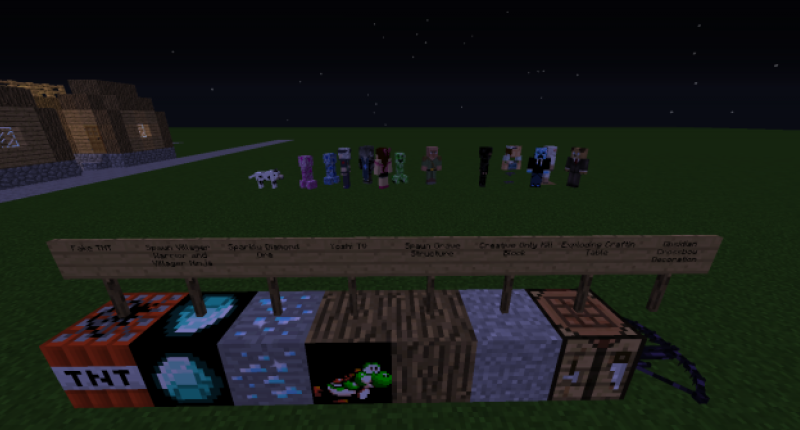 Project status
In development
Latest supported Minecraft version
1.8
This is a very small mod (for now) made by the minecraft player DiamondCreeper23. Here is everything in the mod. First of all we have the mobs! There are villager ninjas and villager warriors the guard your village but you first need to craft their spawning block to spawn them. Next we have the Nice Creeper. He hates other creepers who like exploding and killing innocent players and destroying their houses. They look exactly like normal creepers so be careful! We next have DiamondCreeper23 (Yes I put myself in the mod). He like to walk around and go in random peoples homes for no reason. He doesn't hurt you though. Now we have FuriousDestroyer and Supergirlygamer. They have youtube channels called PopularMMOS and GamingWithJen if you want to check the channels out. They act like DiamondCreeper23, they just look different. Finnally the last two mobs are animals that are part human. They are the Human Sheep and Mr.Fluffles. Mr Fluffles just runs around and doesn' attack and the Human Sheep eats grass. Next we have the blocks. Do you like Yoshi? Then you will love the TV block! It's Yoshi on all channels! For the next block we have the grave spawner. It's a block that makes a grave appear. We also have the Fake TNT to troll people and have as decoration around redstone. Next we have the Warrior and Ninja Spawner Block. Right click it to spawn two villager warriors and a villager ninja. Finally we have the Sparkly Diamond Ore for decoration. It's a diamond ore that sparkles! That is my mod with many updates to come! Also if anyone knows how to add images to spoilers please comment so I can have more pictures! Please report bugs in the comments section!
Changelog of 1.0.1
Version 1.0.1 Exploding crafting table: Explodes on right click, Water Creeper: doesnt explode but makes water appear when it dies. It drops water buckets, Pink Creeper spawns SuperGirlyGamer when it dies. Doesnt explode and drops gunpowder, new nice creeper texture, Etho and AntVenom: Youtubers. Acts like other youtubers Youtube channels are Ethoslab and AntVenom,Obsidian Crossbow Decoration with 3D model, New creative only block that kills anything on top of it, Dalmation Mob: Looks like wolf but lighter colored and with black spots all over it. Doesnt act like wolf because it doesnt attack sheep or rabbits, it cant be tamed and it doesnt attack its attacker.
Changelog of 1.0.2.
Added new liquid Milk. Color isnt working at the moment. Added new Ice Forest. Its a normal forest with snow. It has Oak Trees and sometimes Birch Trees. Added two new overlays for when its day and night. Added WIP Boss called Undead Creeper. Added another player called _Dragon_Warlord_. Added new dog called Jack Rat Terrier. Added Unknown mob species. It isnt known what it is but it is hostile. Added Pooh Bear. Spawn it by right clicking a block of Honey. You can trade with pooh Bear by right clicking him. Zombies attack Pooh Bear. He drops cake.
Known Bugs
Villager Warrior and Villager Ninja hitboxes are too big.    Dalmation and Jack Rat Terrier Hitboxes is too big.   Jesse and Reuben texture is messed up.