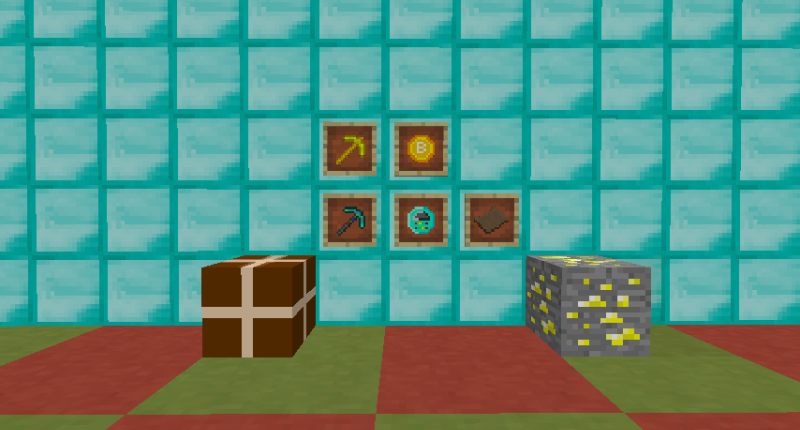 Project status
In development
Supported Minecraft versions
Cardboard Box Mod! 1.8.9
Ever wanted a cheap solution for Storage Problems?
A mod for Storage And Random Stuff!! Hooray for Random Stuff!
Cardboard Mod is for neat storage and random Utilities.
Screenshots:
 bitcoin ore
Cardboard box GUI
The Pickaxes
Cardboard Box and Cardboard paper
 This Mod adds in the following:
Block(s):
Bitcoin Ore--Contains Bitcoins
Cardboard Box---Used for Storage
Item(s):
Cardboard paper---Used for Cardboard Box
Quantum Clock(W.I.P)---Used for Dimensional Travel. Right now it just Changes time
Sonic pickaxe---Pickaxe that can manipulate Redstone Circuits(BROKEN)
Bitcoin Pickaxe---Just Awesome
Bitcoins---Used for the Bitcoin Pickaxe
Todo:
Cardboard Armor
Make Backpacks? maybe?
Add Doge(s)?
Fix slot IDs
Minimize Code by putting the Cardboard box slots in a "for loop". Done in V0.32
Clean up a lot of Mcreator Code
Fix Dimensional Travel(I had it working once!)
Fix Sonic Pickaxe(It's Useless! But it does look cool...)
Bugs:
Cardboard slot ids are broken. They are stable but look so Weird.
Modification files
Cardboard mod.jar -

1.8.9 Version 0.3
Uploaded on: 04/28/2016 - 00:12 File size: 47.57 KB