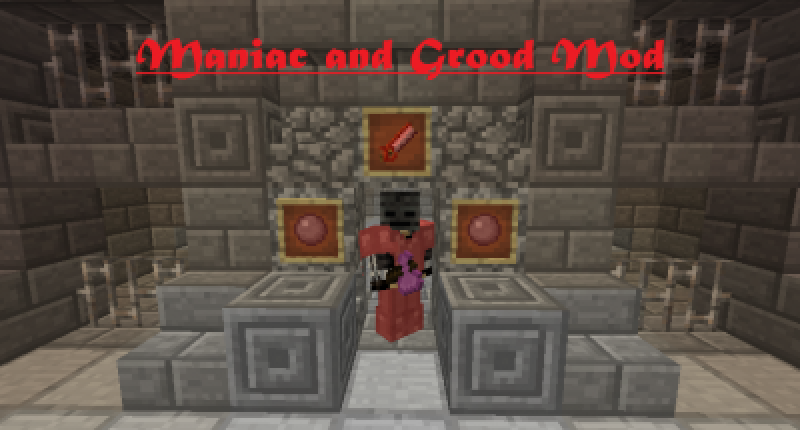 Project status
In development
Supported Minecraft versions
DOWNLOAD LINK: https://mega.co.nz/#!SF4C2LQQ!6Yg7Y4_1zMLveF7bLVN99eycR4anUGwhmm45awRi1…
IT HAS THE CRAFTING RECIPIES AND IMPORTANT INFO AS WELL!!!!
How insanly far will you take this mod? Only time will tell.
IMPORTANT NOTICE: IF YOU ARE TO USE MY MOD IN A MOD SHOWCASE, YOU MUST LEAVE MY YOUTUBE CHANNEL AND THE LINK TO THIS MOD ON THIS SITE, AND THE PLANET MINECRAFT WEBPAGE!
Youtube Channel: youtube.com/derpyjasongames
Changelog:
Alpha 0.0.1: Maniac Ore Made (I was so happy :D)
Alpha 1.0.0: All Maniac Tools, Items, and armor made.
Alpha 1.0.1: Bug fixes
Alpha 2.0.0: Made the dimension along with a lot of others.
Alpha 2.1.2: Bug fixes, more items.
Alpha 3.0.1: Made All items.
Alpha 3.0.2: Added affects to Maniac Armor.
(Closed) Beta 1.0.0: Testing, last minute changes.
(Closed) Beta 2.0.0: Added 4 acheviments.
(Closed) Beta 2.0.1: Bug fixes.
Beta 2.1.0: The mod is first released on January 18, 2015! :D
Beta 2.1.1-2.6.5: Dimension edits. Grood Ore. Some other things that you have to discover yourself because I don't want to type it. ;)
Beta 2.7.1: First Update! Bug fixes. More stuffs.
(Not on the forum.) 2.7.1.1: Puts actual info about the mod on here :P
What each item does:
(KEEP IN MIND, THESE ARE JUST WHAT SOME ITEMS DO! NOT THE CRAFTING RECIPIES!)
I Pity the Foo:
13 Attack Damage, 250 Druability
Groooood:
A multi tool that is a shovel, pickaxe, axe, and SHOULD BE a hoe. 999 durability.
Insanity Sword:
11 Attack damage. Around 600 durability... It should be...
KILL ALL WITH LIGHTNING:
Right Click to spawn LIGHTNING! UNLIMITED DURABILITY!
Lapis is Bad Armor:
Helmet:
(Not working for some reason,pictures won't load. More tomorrow.)