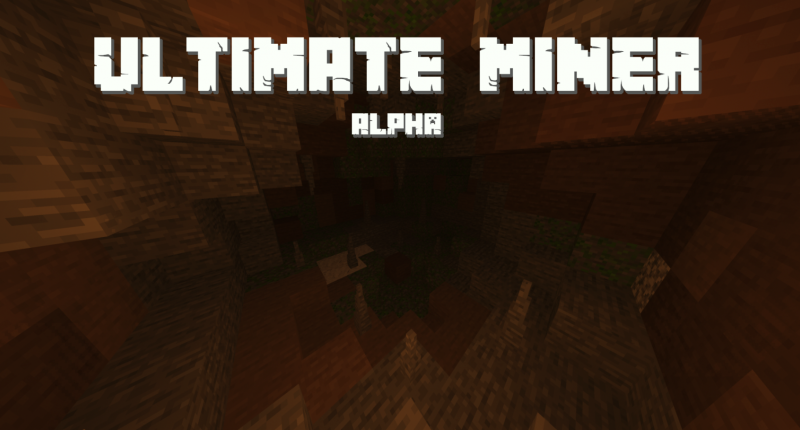 Project status
In development
License
All Rights Reserved
Supported Minecraft versions
Welcome to Ultimate Miner! The Ultimate Miner experience includes new caves and more exploration!
WARNING: THIS IS VERY EARLY IN DEVELOPMENT, IF YOU MAY EXPERIENCE BUGS PLEASE REPORT THEM. 
Ultimate Miner creates an all-new experience while mining. Generating new caves with new stones to discover, new tools to make, and stalagmites and stalactites of all sizes!
Many new items will arrive in future updates. To see features and bugs check the Trello board here! (Trello Board)
Currently this mod is only supported for 1.16.5 but will soon support versions such as 1.15.x and 1.17.x.
Currently there is 114 elements and soon more to come!
Don't forget to upvote! It's very appritiated and will motivate me to update more!
Questions asked frequently:
Q: Why aren't there that many items?
A: This is a very early version of the mod, many items will be soon added. 
Q: Will other versions be coming?
A: Yes, as soon as MCreator can be used for 1.17.x I will start support. Soon older versions may be supported.
Q: Why are the textures weird?
A: Most of these are placeholders for the textures, soon better textures will come.
Q: Is there a Wiki for this mod?
A: No, not yet. I am planning to make a tutorial/wiki for all the crafting recipes. For now, I reccomend downloading JEI. (JEI Page)
Changelog
0.1.1 Bug Fixes
- Fixed Stalagmites/Stalactites breaking without a pickaxe.
- Fixed Dirty Cobblestone stairs/slabs/walls being uncraftable.
- Spelling Errors.