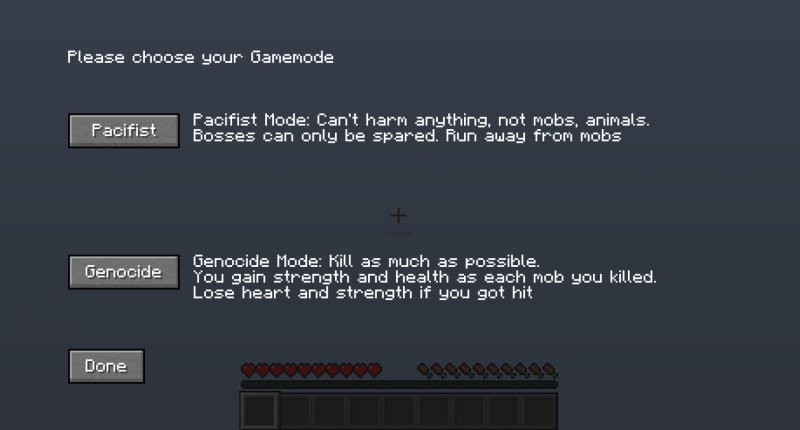 Project status
In development
Supported Minecraft versions
Mod that give you the option for choosing gamemodes: genocide or pacifist.
As a genocider, you gain hearts and strength by KILLING. As a pacifister, you die by killing, only mercy.
In this update, it is only that, but in the future, I will add different bosses, endings. Good luck!
Current bugs contain after genocide kill, the health restore, but the effects don't. In pacifist, the mercy button's dimensions are not right, and after mercy, there is an unreadable text at the bottom. Working on it. Pressing E to exit select screen, and not be able to get self-killed in pacifist.
I will continously update this mod until it have reached the max.
This is HellishBro.
Peace out
Note: this idea is from the game Undertale. Shoutout to Toby Fox who made this possible
version log:
Publish: Published the game
V. 1.1: Changed the way Hearts and Strength change in genocide mode. Started using real LOVE. Changed how mobs get MERCY in pacifist.
Modification files
gamemodes.jar -

gamemodes.jar --- version In Dev
Uploaded on: 04/11/2021 - 21:51 File size: 61.19 KB
gamemodes_v2.jar -

gamemodes.jar --- version 1.1
Uploaded on: 04/13/2021 - 18:17 File size: 65.51 KB
Changelog
In Dev: Published
v. 1.1: Changed Genocide Mode and Pacifist Mode