License
All Rights Reserved
Supported Minecraft versions

Welcome to the wonderful world of Berry Cows!
This mod adds a new species of cows to Minecraft, the Berry Cow!  Each cow has an affinity for a particular type of berry and can be sheared to harvest the berry's from it's back. They can also be milked for berry flavored milk, Yum!
The cows can be obtained in several ways including wild caught, mutations, hybridization and more! Challenge yourself to find all 33 sub-species! As you collect more of the available sub-species you gain the ability to make more of the 33 different Smoothies you can make in the Berry Blender, each one has different effect! The berry blender can be made with the below crating recipe.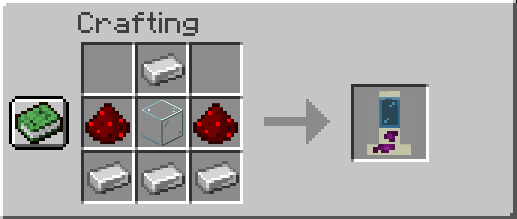 Future Plans
Currently the only future plans I have are to find a way to add details on the harvesting of the berry cows (and maybe even the breeding combinations) to JEI.
FAQ
1. Downgrade to version X.X.X?
There are no plans to make this mod compatible with older versions of minecraft.

2. Update to version X.X.X?
Currently while I feel the mod is in 'Beta' there will be no version updates, if at some point i consider the mod 'complete' and 'polished' enough I MAY consider updating. 

3. Can you make this mod compatible with recipes from [mod name]
Sure! just link me to the information on what tags that mod uses and I can add them  :)

4. Fabric?
no, I mostly use Forge myself and i really don't feel like maintaining multiple versions as I'm just making this for fun.
Changelog
Initial release of Mod, contains the following base features:
- 33 Berry Cows
- 33 Berry's
- 33 new Milk types
- 33 Smoothies
- Berry Blender device to make smoothies
Also contains the following compatibilities:
- Pam's harvest craft recipe compatibility for berry's
- Smoothie recipes compatible with JEI
1.0.1 release
- Fixed bug in breeding code preventing breeding vanilla entitys.
1.0.2 release
- Berry Cows no longer spawn in dimensions other then the Overworld
- Display name of Berry Cows when using mods such as waila or hwyla now displays corectly
1.0.3 release
- The Empty Smoothie is now named correctly
- Smoothies no longer move around when you drink them
1.1.0
- Found a case where baby's can change species, this was fixed
- Fixed No texture bug when used with 'special AI' mod
- Fixed a rare crash
- Fixed a few stray pixels in textures
- Fixed bug causing Young Berry Cows to be unobtainable
- Added Berry Cow Analyzer - lets you the species a berry cow is and what it's parents were
- Added Berry Cow Breeding Book - a book that will fill with your notes on all the Berry Cows as you obtain more of them. Also has conditions that when met will provide a clue on how to get the different species
1.2.0
-  Added a fun new animation to the cows with GeckoLib
- Updated to version 1.18.2
-  GeckoLib is now a required dependency