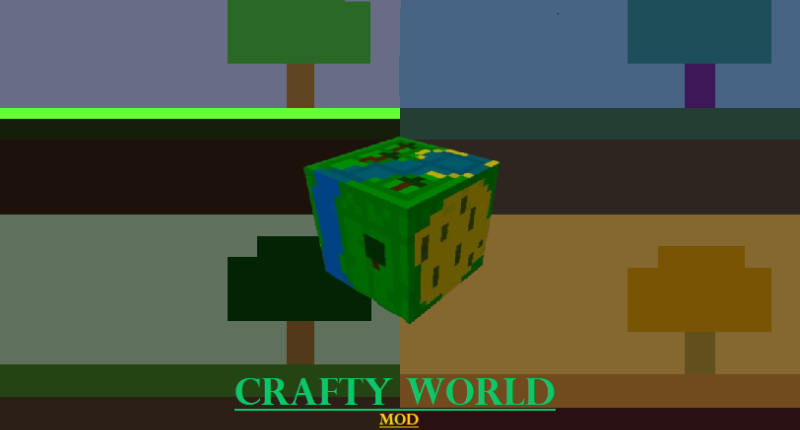 Supported Minecraft versions
MINECRAFT CRAFTY WORLD MOD
This is a mod that make minecraft more crafty adding more biomes and dimensions to explore, new structures, new blocks for build, new functional blocks with redstone and more things to see.
OVERWORLD
Theres new biomes in the overworld like the eternal lands, hight oaks, birch plains, floating islands and the new underground biomes like lumi cave, slimy cave and ice cave.
More things to overworld comming soon.
FORESTS OF CRAFT
This dimension can be acessed by a portal in a structure from eternal lands, in it theres two biomes, the dense forests and the craftness forest with the craftness village.
CELESTIAL ISLANDS
This is a dimension in the skyes of Minecraft, in it you can find new ores and a lot of floating islands
NETHER
In the nether you can find a new biome (more biomes in the nether soon) called fire forest, with a strange hot grass and a new tree, the lava tree.
END
In the end you can find two new ores, the leviorb and ederniter.
You can find in there some "ender bubbles" that form a strange type of forest.
(more things from ender coming soon).
______________________________________________________________
Modification files
Crafty_World-beta.jar -

The first public version of Crafty World in beta
Uploaded on: 09/24/2023 - 01:40 File size: 2.59 MB
Changelog
First version of Crafty World in beta disponible
The next versions probally will realese on Curse Forge