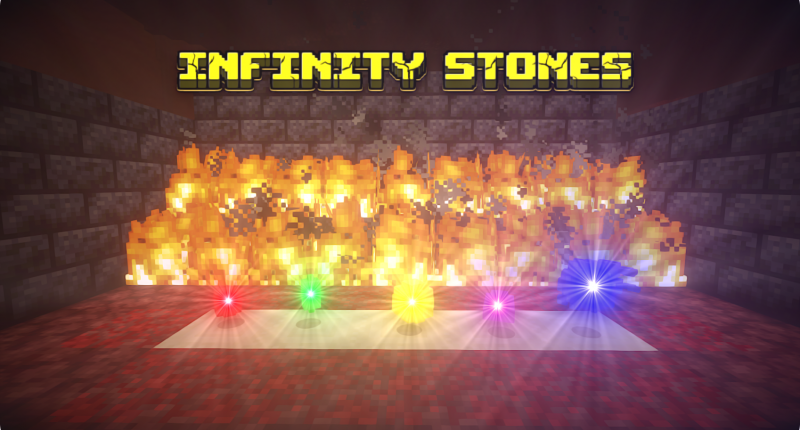 License
All Rights Reserved
Supported Minecraft versions


Infinity Stones 'n Powers! A mod that introduces to the game well-known infinity stones from Marvel's Avengers series.
Ever wanted to feel the power Thanos used to wield? Well, then try out what the mod offers!

 

Throughout the seeking for stones, you will be given instructions what powers each stone has to offer, once you combine it with the Infinity Gauntlet.
Step by step you will need to find inactive power stones, that have to be combined with certain items in crafting table, in order to obtain an active stone, which later on you'll be able to install on the gauntlet.
The instructions on how to find the inactive stones can be found once you hover on them in the recipe book in crafting table (or in creative mode).
What's more, you also have to craft the very gauntlet (without stones, of course), which crafting you can find below.

 
STONES RECIPES:
Once you combine ALL the Infinity Stones with the Infinity Gauntlet, you will be given the Half Life ability.
SHIFT + RIGHT CLICK allows to switch between stones!
---
In case of any doubts, use those commands in the game:
- /infinityhelp - writes down all the abilities of the modes
- /infinityhelpstones - writes down how to find each inactive stone
---
And that's it! Discover those amazing powers on your own throughout the gameplay, so that they can amaze you even more!
In case of any questions - visit my Discord!


You can join me on my server Marwinekk's mods to see how my mods are being developed. Also, if you like my modding style, you can suggest what next QoL mod I could do for you!
Join the discord or donate to support me, so I can improve the mods' quality with more advanced programs!

 

If you wish to use this in a modpack, feel free to do so and let me know if you do!
CREDITS:
Recreated by:  Marwinekk; Inspired by:  Craftee
 

YOU CAN ALSO WATCH A GAMEPLAY OF THIS MOD AT ZEROS'S CHANNEL:
-> LINK TO THE CHANNEL: https://www.youtube.com/c/OopsZeros
-> LINK TO THE VIDEO: https://www.youtube.com/watch?v=hGe4L4ZHmZo

THE MOD HAS BEEN RECREATED BY MARWINEKK BASING ON CRAFTEE'S INFINITY STONES YOUTUBE VIDEO.
THIS IS NOT A ONE-TO-ONE COPY NOR A FILE COPY AT ALL!
 
Changelog
1) Inactive Time Stone ore was reported to be not spawning correctly/at all. Should work fine now tho.
Updated file ready to download from -> https://www.curseforge.com/minecraft/mc-mods/infinity-stones-n-powers/files
=======================
2)
What's been updated since the last version:
-New, more covenient way of obtaining inactive reality stone.
-Going back to the Timeloop is now possible. It becomes impossible after killing the sheep, instead of just entering the dimension.
-Prevented suffocating in walls after travelling to the Timeloop.
-Switching between gauntlets' modes was sometimes bugged. [bug fixed]
-Switching a gauntlet's mode in off-hand would duplicate the gauntlet. [bug fixed]
-"Half-Life" mode was sometimes crashing the game. [bug fixed]
-Updated Mind Sheep's texture
-Switching dimension to The End with Space Stone mode would throw the player of out the world. [bug fixed]
-To craft Active Time Stone, use Redstone Blocks instead of Copper Blocks in the 1.16.5 version (there's no copper in 1.16.5)
-Added help commands:
   - /infinityhelp - writes down all the abilities of all modes
   - /infinintyhelpstones - writes down how to find each inactive stone
Updated file ready to download from -> https://www.curseforge.com/minecraft/mc-mods/infinity-stones-n-powers/files