Project status
In development
License
All Rights Reserved
Latest supported Minecraft version
1.18.2
---
In development, to much things to go
---
This mod is about universes of fiction (cinema, games, etc), like Toy Story, God Of War, Star Wars, etc.
For now, this mod contains:
-Toy Story Dimension
-5 new bosses
-More than 7 mini bosses
-Monster Inc
-Regular Show
-Finding Nemo (WIP)
-Super Mario 
-So many Dungeons
-Slime rancher biome 
-More than 20 mobs
-Star Wars
-
-And so much more in work in progress.
My project is to make universes of fiction where you can deep in there and stay hours without getting bored.
I have in mind to make more universes, but for now be patient and wait, I don't have much time but I want to have this finished this year.
Please download and upvote!!
If you have some ideas please comment it and I'll do it.
---
Future updates
A guide book (in process)
More universes
        -Star Wars
        -The Amazing World of Gumball
        -Harry Potter
        -Wall-E
        -Gremlins
        -Mickey Mouse
        -Chicken Little
        -Kirby  (in progress)
        -Finding Nemo (in progress)
       -Dragon Ball
       -Sponge Bob
       -Cars (In progress)
       -Ratatouille (in progress)
       -A nightmare before Christmas           
       -Miraculous LadyBug
Upgrade the things that are not perfect
---
 - Super Mario
To start in this universe you'll need to find in the plains the castles of the Koopalings.When you enter to one of this you'll need to complete a challenge.After that, you can find the miniboss who you need to fight.Some have extra rewards, but everyone gives you a key:
The Rainbow Key is the one you need to defeat Bowser.To obtain this key put all the Koopaling's Keys in the crafting table.To fight with bowser find a castle with lock and right-click with the Rainbow Key to open.
---
-Monster Inc
This dungeon is in the snowy biomes.Here you'll find Mike Wazowzky and most important the Scream Canister:
With this you can invoke Waternoose, but you will need Child's Screams
.You can obtain them killing Boo in the plains.With 4 screams, put them into the canister to invoke and kill Waternoose.
---
-Toy Story
You want to see your favorites toys? Well then craft the Toy Box this way(it can be any wood):
Then place it and right click, you'll enter the Toy Box.Here you find one boss, Buzz Lightyear, that would give you his wings and a document to invoke Zurg.
There is a secret in the toy box, try to find it...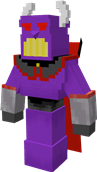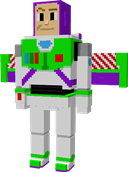 ---
-Regular Show
You need to craft the ship (it would be useful for other universes in the future). In the ship right-click and go to the Regular Show House.When you enter you are teleported here, where you can find Anti-Pops, the boss of this universe.When you kill him it would give you the Chicken Mecha Armor.
---
-Cars
In the badlands you will find this wagon.In you'll find chest with the parts of Rayo Mcqueen, Mate and Tod Torque:
---