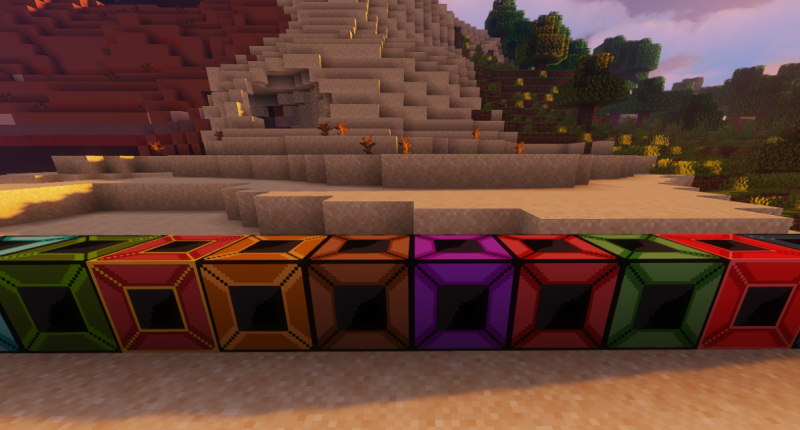 Project status
In development
Latest supported Minecraft version
1.19.2
Are you tired of farming for hours on end just to get a good pickaxe, stack of steak, or even just blocks to build with? If so, then THIS mod is the SOLUTION!
With Mob Loot boxs, you can obtain weapons, armor, almost all types of blocks and items in the game, and more, simply by killing monsters! This mod adds several "loot boxes" to your Minecraft game, including Redstones, Enchanted, Armors, UtilityBlock, Weapons, Basic Items, Rare Items, Blocks, Foods, and Tools. Each loot box contains different types of loot appropriate to its category, with different rarities and probabilities of getting certain items.
For example, when opening a Weapon box, there is a higher probability of getting a stone sword than a netherite sword.
These loot boxes are obtainable by various vanilla monsters, such as creepers, zombies, endermen, spiders, skeletons, cave spiders, blazes, drowned, evokers, husks, piglins, piglin brutes, pillagers, strays, and vindicators.
here's everything obtainable from the boxes.
Blocklooter:Diorite,granite,stone,deepslate,grass,dirt,calcite,andesite,mud,sand,redsand,gravel,obsidian,blackstone,mossycobblestone,amethyst,oaklog,oakleaves,sponge,sandstone,redstone,bricks,snow,ice,whitewool,whiteconcrete,netherbrick,rednetherbrick,soulsand,glowstone,shroomlight,netherrack,endstone,purpurblock,glass,basalt,slimeblock honeyblock,smoothstone,packedice,blueice
Redstone looter:Redstone,redstoneblock,redstonetorch,repeater,comparator,daylightdetector,tripwirehook,AllTypeOfPressurePlate,Piston,stickyPiston,observer,hopper,dispenser,dropper,slimeblock,honeyblock,redstonelamp,minecart,rail,raildetector,railactivator
Foodlooter:Apple,GoldenApple,carrot,potato,pumpkinpie,cookie,melonslice,sweetberries,bread,cake,salmon,tropicalfish,cookedcod,cookedsalmon,porkchop,cookedporkchop,beef,cookedbeef,mutton,cookedmutton,beetroot,rabbit,cookedrabbit,bakedpotato,chicken,cookedchicken,GlisteringmMelonSlice
Weapon looter:Stonesword,ironsword,goldensword,diamondsword,netheritesword,trident,shield,bow,crossbow,arrow,spectralarrow
Enchanted looter:enchanted book (different rarity include all enchantement) bookshelf,lapislazuli,enchantingtable,XPpotion,book
Tool looter: shovel pickaxe axe and hoe (stone,iron,gold,diamond,netherite)+flintAndSteel,shears
Utilityblock looter:noteblock,chest,furnace,whitebed,craftingtable,tnt,enderchest,target,jukebox,brewingstand,anvil,cauldron,scaffolding,grindstone,bell,loom,barrel,smoker,lectern,smithingtable,stonecutter,blastfurnace,cartographytable,fletchingtable,respawnanchor,composter,beehive,whiteshulkerbox
Basic item looter:amethystShard,echoshard,prismarineShard,PrismarineCrystal,bonemeal,compass,clock,spyglass,painting,itemframe,glowitemframe,stick,bowl,string,feather,gunpowder,flint,leather,brick,netherbrick,clayball,paper,slimeball,glowstonedust,bone,sugar,enderpearl,enderEye,glassbottle,ghasttear,blazerod,honeybottle,honeycomb,fireball,fireworkrocket
Rare item looter:netherstar,heartofthesea,scute,phantomMembrane,totemOfUndying,nametag,saddle,enchantedgoldenapple,endcrystal,nautilusshell,diamonds,ancientdebris,shulkershell,dragonBreath
Armor looter:full armor (mail,iron,gold,diamond,netherite) horse armor (iron,gold,diamond), elytra, turtle helmet