The now almost traditional start of the year website update is here. This time we added some long-requested features by the community. More in the article. Read on!
User point ranks
Probably the most noticeable new feature for most of the users is user point ranks. Now users not only have user points depending on their activity and time on the website, but these points make them rank up too. We have prepared a big palette of ranks, plus there are some hidden ranks too ;)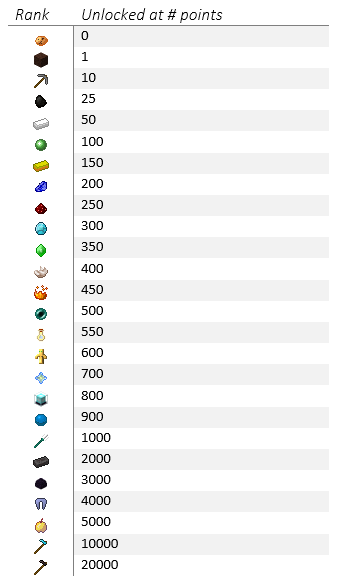 These ranks are cosmetic only and for fun, so don't take them too seriously. We know some of the items may have different ordering depending on how you play the game, but this is our interpretation, where netherite hoe is the ultimate rank one can achieve :D
Deletable comments
The second most important, but still very important for many users is an option to delete their own comments. This was requested a lot but not added so far due to abuse of this function we already had in the past.
To overcome this problem, we have now made a system where users can remove a comment in the first minute of posting it, in case it was an accident. The comment will be completely removed. If in this first minute, the comment already receives replies, the content of the comment will be removed, but the comment will remain for the replies to exist. This is a middle ground that allows users to delete accidental comments, while still preventing trolling of users and removal of replies by removing own comment.
License selectors
Another neat feature is an option to specify the license of your mod or plugin pages. This feature is very similar to how mods on the CurseForge can specify a license. A pre-made list of common licenses is prepared, with support for specifying a custom license. All mod authors are encouraged to update their mod pages with license info for better clarity on this topic.
Plugin authors
Mod pages support specifying a list of authors like contributors, testers, translators, texture makers, and such for a while now. We have been asked a few times to add this to the plugins too and there it is. Plugin page owners can now list other users that helped to develop the plugin.
New forum sections
We have re-organized the forum sections and moved some sections to different groups. Mod teams section was renamed to Collaborations and mod teams. Bugs and solutions section was renamed to Troubleshooting, bugs, and solutions. Some other sections received some minor renames too. Two brand new sections were added too:
General Minecraft talk: A place to talk about your Minecraft saves and gameplays, tricks, seeds, look for or showcase vanilla servers, and more.
Mod design feedback: If you are looking for feedback on a mod you are working on, textures you drew, models you designed, or a storyline you wrote, this is a place to ask.
We hope these two new sections will fill the gap for the people wanting to talk about Minecraft in general and for the mod developers looking for feedback while still working on the mod and the mod did not fit in the Mod showcase and discussion yet. See you on these new sections!
Crypto donations
I currently still very actively work on software, and will keep on working on the website which will remain up as long as I can justify it financially. We supported crypto donations in the past, but due to a bug, this option disappeared from the donate page. This is now fixed so people who want to support the MCreator project and help it live can now do this in Bitcoin and Ethereum too. Huge huge thanks to all past donators this point too!
Other changes
Other than the mentions above, some other minor changes were made, we have updated some libraries we use for the website and improved its loading performance a bit. Some other minor layout changes were made in the past weeks and links swapped in hopes to make navigation on the website a tad easier too.
Tell us your favorite improvement on the website in the comments, provide your feedback, and stay tuned for the next 2021.1 snapshot!