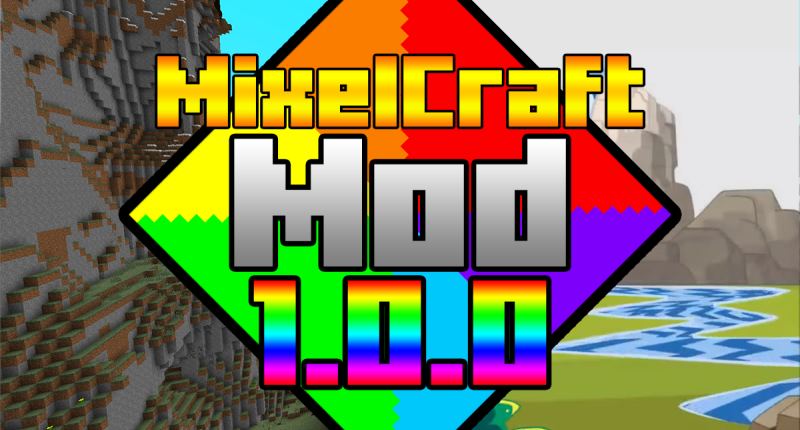 Project status
Deprecated
Supported Minecraft versions
MixelCraft Mod is a mod that adds Mixels to Minecraft!
If you don't know what is Mixels... It's a cartoon created by the LEGO Co. & Cartoon Network that can be found in cartoon network & other local cartoon channels.
Since this mod is new fully released... Please give us some feedback even it's a neutral or negative one. But I appreciate if you giving us some good feedback or some suggestions to this mod.
 
What features will it add if you Install this mod?

It includes over 500 Mod Features some of them including:
It includes over 60 Mixels & other mobs added to the mod including Flain, Zorch, Vulk and much more!
It adds all the items that include the cubits, nuggets, ingots, blocks and some other miscellaneous stuff!
It also adds food like Cookironi, Oxy-Juice And much more!
Adds the dimension (still in development and might be released in the future update)
Adds the structures (still in development and might be released in the future update)
Updates :
Full release versions :
1.0.0 - All recipes have been changed!
1.0.0 - Tons of new mobs added!
1.0.0 - Now supported in a newer 1.11.2 Minecraft!
1.0.0 - New Tribe nugget and block added!
1.0.0 - Adds new tribe blocks, ingots, and nuggets!
1.0.0 - AI on all mobs has been changed!
1.0.0 - Some other stuff that I haven't think of just yet ;)
Snapshot updates :
130B9 - Fixed some bugs from the Mixels including its behavior and spawning rate.
130B9 - Added new Mixels including Torts, Hoogi, the 2014 Glorp Corp MAX, etc.
130B9 - New creative tab has been added (Under development)
130B9 - New mixes have been added (Artwork by the Mixels fan. It's just converted by the mod developer)
DISCLAIMER: This mod is one of the heavy mods... meaning you should have a beefier PC in order to work. Please check the system requirements here if you have a low-end system or laptop: http://mixelcraft.wikia.com/wiki/System_Requirements
if you need some help or questions about all the features about this mod. Be sure to check the MixelCraft Wiki that I just made a while ago: http://mixelcraft.wikia.com/wiki/Board:Questions_and_Answers

NOTE: Snapshot versions ONLY WORKED IN 1.7.10 MINECRAFT while THE FULL RELEASE 1.0.0 ONLY WORKED IN 1.11.2 MINECRAFT!
 
Join to the communities if you wanted to :
MixelCraft Wiki: http://mixelcraft.wikia.com/wiki/MixelCraft_Wikia
MixelCraft Community (Facebook group): https://www.facebook.com/groups/1668921846711912/
Mod credits :
Elastico345 - Mob Modeler, Texture Creator & Mod configurator + MixelCraft wiki founder
WitheredJawg15 - Mod tester, Structure developer & giving ideas to the mod developer + MixelCraft wiki admin
All Mixels fans from Mixels Wiki - Giving all the ideas and their artwork for the addon of the Mod.