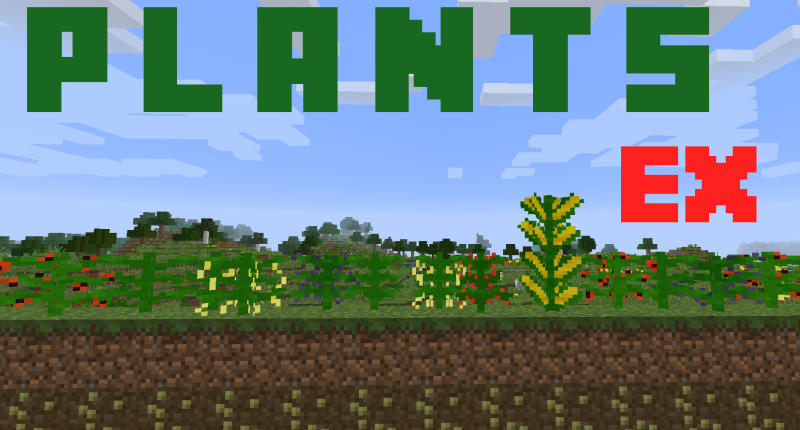 Project status
In development
Supported Minecraft versions
CHALLENGES, KNOWN BUGS/BUGFIXES AND THINGS I NEED HELP WITH ARE LISTED AT THE BOTTOM! THANKS!
Welcome one, welcome all, to the all-new Plants EX Mod that you can download to improve YOUR Minecraft experience! This brand new mod (brought to you by previous mod-of-the-week "The 4 Elements(?) Mod" creator Mr_Alpha) will add a multitude of fun plants and new ways of NOT running out of food to your Minecraft world. At the moment, my screenshots aren't working, but I'll get them up as soon as possible. :) Until then, text-based information will have to do!
New Plants:
-Blueberry Plant
-Basic Plant
-Strawberry Plant
-Corn Stalk
-Raspberry Plant
-Bean Stalk
New Foods:
-Blueberries (Gotten from Blueberry plant)
-Strawberries (Gotten from Strawberry plant)
-Corn (Gotten from Corn stalk)
-Raspberries (Gotten from Raspberry plant)
-Beans (Gotten from Bean stalk)
-Gourmet Bread (Cook a dough ball (see below) in a furnace)
-Chocolate Chips (Crafted with cocoa beans in the corners and center, all other spaces filled with sugar)
-Tomato (Gotten from harvesting the tomato fruit off of the unnatural tomato trees in the unnatural biome)
-Burger (Crafted with one gourmet bread, one bottle of ketchup, one bottle of mustard, one cooked beef and one tomato, fills the hunger bar completely (shapeless crafting recipe))
Miscellaneous Things:
-Yeast-Infested Dirt
-Yeast (Cook Yeast-Infested Dirt in a furnace)
-Grinding Stone (Nine cobblestone in a crafting table)
-Wheat Flour (Crafted with a grinding stone (<---- stays in crafting table after use), one wheat and one sugar (shapeless crafting recipe))
-Dough Ball (Crafted with a water bucket in the middle, a Yeast in each corner and a Wheat Flour in the other spots)
-Mustard Seed (Gotten from breaking grass, like normal seeds)
-Acidic Water (Crafted with one water bucket and three Yeasts (shapeless crafting recipe))
-Bottle of Vinegar (Crafted with two Buckets of Acidic Water, one bucket of water, one glass bottle and one sugar (shapeless crafting recipe))
-Tomato Wood (Harvested from the trunk of an unnatural tomato tree in the unnatural biome)
-Tomato Leaves (Harvested from the unnatural tomato tree in the unnatual biome with a silk touch tool, otherwise they drop chocolate chips. It's the unnatural biome. No complaining)
-Bottle of Ketchup (Crafted from one glass bottle, one bottle of vinegar, two tomatoes, one sugar and one bucket of water (shapeless crafting recipe))
-Bottle of Mustard (Crafted from one glass bottle in the bottom center, one bucket of water in the center, one sugar in the top center and mustard seed in all other spots)
NEW BIOMES:
-Unnatural Biome (All mobs spawn, there are tomato trees that have tomatoes frowing on them, their leaves drop chocolate chips)
Coming Soon:
-Tomato Wood Planks
-Orange Orchard Biome
-Cherry Blossom Biome
-Just Peachy Biome
BASIC CRAFTING FOR THIS MOD:
This mod has a very simple function: Find, Harvest, Replant. However, none of these plants grow out of your run-of-the-mill farmland. They grow straight out of grass. (Yes, grass. Not sure about dirt. Will test soon.) So you may be wondering how to get more of the plants you find. Well, you may have noticed (and wondered about) the "Basic Plant" in the list of new plants above. To make a plant of any food you found on a plant, simply craft one Basic Plant with one of the harvested crop from any plant. However, the basic plants are slightly more rare than all of the other plants. (Soon, there may be a function to replace a basic plant after a while if it has been taken, but not now.) Also, if you get a Yeast-Infested Dirt Block, you cook it in the furnace to get a yeast from it.
=======================================================================================================================================================
Copyright Notice: All information and ideas in this modification to the game Minecraft (which in and of itself is copyrighted and trademarked by Mojang) are original to the creator, the owner of the Mr_Alpha profile on this website, who prefers to remain anonymous. This add-on to Minecraft is protected under general United States copyright and fraud laws.
Permissions:
You may share this mod with others as long as they also follow these rules.
You may use this mod in a video or modpack as long as you put a link in its description to link consumers back here.
You may not edit the source code in any way or claim this modification as your own.
=======================================================================================================================================================
Challenges:
-The first person to make a mod review on YouTube, comment the link to it here and have a link to this page in the video's description gets to have the official Plants EX Mod Review posted on this page!
-I'll be taking a few suggestions on new plants and foods to add. Comment down below if you have one! This challenge will disappear after a while, and maybe come back later, but maybe not, so act now!
Things I need help with:
-I tried to make the tomatoes grow on a vine on the trees in the Unnatural Biome rather than as apples do, but if I created a block and set its orientation, it would sometimes face the wrong direction because it would only have one orientation. Does anyone know how to do this?
Bugs/Bugfixes:
-The Unnatural biome is way more common than it needs to be. I forgot to change its biome weight back from the max of 1024 that I used to test if it worked.
Thank you!
Modification files
PlantsEX v1.0.1.jar -

Plants EX v1.0.1 [STABLE] [OLD]
Uploaded on: 01/04/2017 - 13:15 File size: 71.69 KB
Plants EX v1.2.1.jar -

Plants EX v1.2.1 [STABLE] [OLD]
Uploaded on: 01/04/2017 - 13:15 File size: 135.94 KB
Plants EX V1.3.jar -

Plants EX V1.3 [STABLE] [RECOMMENDED]
Uploaded on: 01/04/2017 - 13:15 File size: 199.54 KB