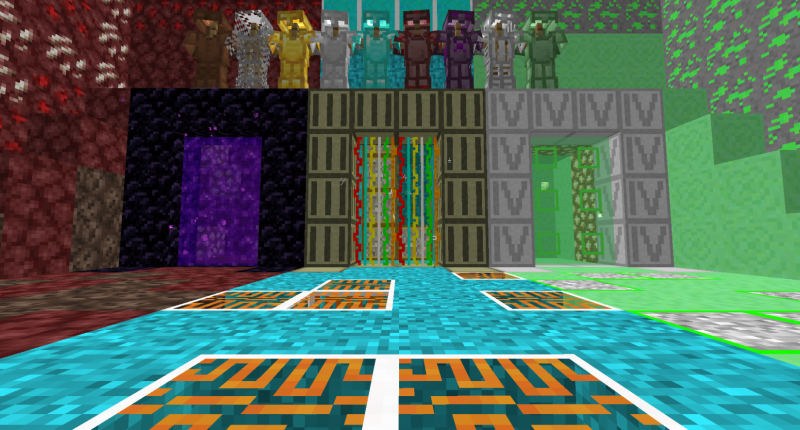 Project status
In development
Supported Minecraft versions
The End was just the beginning...
Embark on your next adventures into new dimensions, set up with a system of linear progression. As you continue on your journey, be sure to collect RARE resources and trinkets from each dimension, which will allow for you to continue on into the next dimension. In order to reach the final dimension, you must combine a trophy block from each previous dimension.
As of now, the plan is to develop 7 additional dimensions, for a total of 10 dimensions in the game including Vanilla dimensions, such as the Surface, Nether, and End. Each dimension will have its own theme and at least one boss. 
Each dimension will introduce its own biomes, blocks, mobs, items, ores, foods, etc. as well as an optional overarching story told from the perspective of two mysterious adventurers who have walked your path and left their mark in the form of Journal Entries, which will be spawned in every unique biome. 
At the moment, this is a list of the features included in the mod (Keep in mind the mod is nowhere near complete):
13 New Items
39 New Blocks
3 New Armor Sets
3 New Tool Sets
2 New Tools
1 New Unique Weapon
1 New Potion
4 New Advancements
1 New Dimension
6 New Biomes
2 New Foods
6 New Plants
20 New Structures
9 New Mobs
1 New Boss
Features may be added, removed, or altered in the future as a result of feedback, future minecraft updates, or other issues.
As development continues, if you notice any bugs or mistakes with textures, as well as any texture, model, etc. that can be improved, please reach out to me via dinomking3@gmail.com in order to give recommendations!
Changelog
Reported Bugs for Beta Release 1.0.0
Advancement "Visit Vastus" given to player after entering the End Dimension
In progress Hog and Duck mobs do not have a grass eating animation
In progress Hog mob has transparent shoulder textures due to modelling issue
Potion of Levitation cannot be brewed and has effects disabled
---
August 1, 2020
Beta Release 1.0.0 - Vastus Voyage Begins
Additions to the Surface/Overworld
2 New Items:

Iron Flakes - Used to craft iron ingots
Plank - Crafted by sticks; used to craft Oak planks

1 New Block:

Surface Trophy Block - Will be used to access the 10th and final Dimension in time
Additions to the Nether:
1 New Armor Set:
1 New Tool Set:
1 New Item:

​​​​​​​Corundum - Acquired by smelting Corundum Ore

​​​​​​​3 New Blocks:

​​​​​​​Corundum Ore - Found in Nether below level 50
Corundum Block - Crafted from Corundum
Nether Trophy Block - Will be used to access 10th and final Dimension in time
​​​​​​​​​Additions to the End:
1 New Armor Set:
​​​​​​​1 New Tool Set:
​​​​​​​1 New Tool:

​​​​​​​Vastus Portal Igniter - Crafted using Endium and Iron

​​​​​​​1 New Item:

​​​​​​​Endium Crystal - Acquired by smelting Endium Ore

​​​​​​​3 New Blocks:

​​​​​​​Endium Ore - Found below level 24 in the End Dimension
Endium Block - Crafted from Endium
End Trophy Block - Used to enter the Vastus Dimension
​​​​​​​​​​​​​​Vastus Dimension:
​​​​​​​4 New Advancements​​​​​​​
1 New Armor Set:
​​​​​​​1 New Tool Set:
​​​​​​​6 New Biomes:

​​​​​​​Red Biome - Spawn weight of 400
Orange Biome - Spawn weight of 500
Yellow Biome - Spawn weight of 300
Green Biome - Spawn weight of 300
Blue Biome - Spawn weight of 300
White Biome - Spawn weight of 200

​​​​​​​2 New Foods:

​​​​​​​Raw Mire Meat - Acquired from Mire Mouse
Cooked Mire Meat - Cooked from Raw Mire meat

​​​​​​​1 New Potion:

​​​​​​​Potion of Levitation - Gives levitation effect to allow floating to locations through air

​​​​​​​CURRENTLY NOT IMPLEMENTED​​​​​​​

​​​​​​​1 New Unique Weapon:

​​​​​​​Staff of Levitation - Inflicts levitation effect on target entities

​​​​​​​6 New Plants:

​​​​​​​Red Eger - Drop Eger rods
Orange Eger - Drop Eger rods
Yellow Eger - Drop Eger rods
Green Eger - Drop Eger rods
Blue Eger - Drop Eger rods
White Eger - Drop Eger rods

​​​​​​​20 New Structures:

​​​​​​​6 Story Entries
2 Castle Spawns for Vastus Boss
12 Biome Based Structures

​​​​​​​32 New Blocks
9 New Items
​​​​​​​​​​​​​​9 New Mobs
​​​​​​​