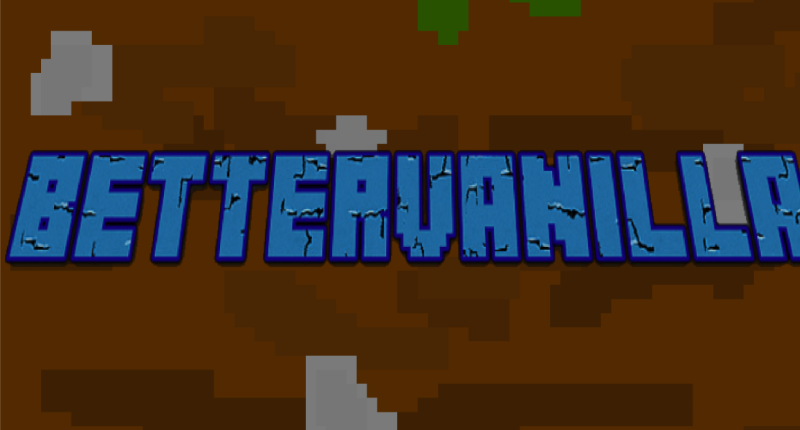 Project status
In development
License
All Rights Reserved
Supported Minecraft versions
News
Looking for Entity Designers comment or Discord-DM one of the Team Leaders : DarkStarEternal#9023 or Bartun2010#8132 (unwanted messages will be blocked)
Description
This is Better Vanilla, a mod full of exploration, Battles, adventures and creativity.
This mod adds tons of new Building blocks, mobs, biomes, amor and much much more. 
E.g. The Endersword. A powerfull weapon, with a special abillity: Teleport on right-click
But now, no more spoilers. Download the Mod and explore a new and Better minecraft 
If you enjoy the Mod, please upvote and support us
You can also join a public Discord all around the mods made by Blackstone Studio 
Oficial secondary Websites:
FAQ:
 
Can i put this mod into a modpack ?
yes, but dont forget to credit us and link it in the comments so i can add them in the description.
Can i put this mod into another website ?
No.We highly reccomend not doing it. Else we will have to get your repost deleted.But if you happen to find a repost please comment.
Can i create an addon for this mod ?
yes, but dont forget to credit us and link the addon in the comments (i will put them in the description).
Report Bugs in https://mcreator.net/forum/97402/better-vanilla-bug-report
We recommend to download a version as soon as possible because it will have a limited time until its deleted. Join the discord to Download older Versions
Milestones:
50 Downloads 18.5.23
100 Downloads 21.5.23
200 Downloads 25.5.23  
500 Downloads 31.5.23 Thank you all for your enormous support we would have never thought we would reach 500 Downloads so fast. We see that you like the Mod an we are continuing with new updates (we are also working on an Add-on for the mod)
Warning: If you find a fake, dont download it, because it could be dangerous. I will link official Versions of other Websites here.
All Mods made by Blackstone Studio:
Changelog
V 0.1 first official  file announced 
          all  blocks, items, mobs, armor and biomes added
V 1.0 The gaming Update
           added Flaminggems, endsmiths, and normal endships randomly floating around
           Ensorinalfungus works now
          Crafting for Flaminggem was updated
          Liquid Flames were introduced
V 1.1.0  The Remake
              Removed Wardenheart and -armor
              Changed Death to Dark Knight
              Removed Endsmiths and enderarmor
              Added Darkium
              Changed Textures of Cut Andesite, Diorite and Granite
              Endersword has a 3D model
V 1.1.1  Patch 1 (the remake)
              Changed name of Flamingem to Flamimg Gem
              Changed name of UnfinishedFlamingem to Unfinished Flamimg Gem
              Added Trees to the Ensorinalforest
              Added experimental Rocky Desert (experimental)
              made ensorinalvines and -fungus generate in the Ensorinalforest
V 1.2.0 The Adventurous Update
              changed protection values of Mortemarmor
              Added 10 new biomes
              fixed a bug which caused Ensorinalforest to generate in the overworld
              changed attack Damage of Enderasword and Flamingsword
              added two new ores: Silver and Tin
              Added the elk and the Rainforestfrog
              Fixed a bug which caused the leaves of custom trees to randomly decay
V  1.2.1 Patch 1 (the Adventurous update)
              Fixed the orientationbug of the rainforestfrog
              Added the Greenwood Forest