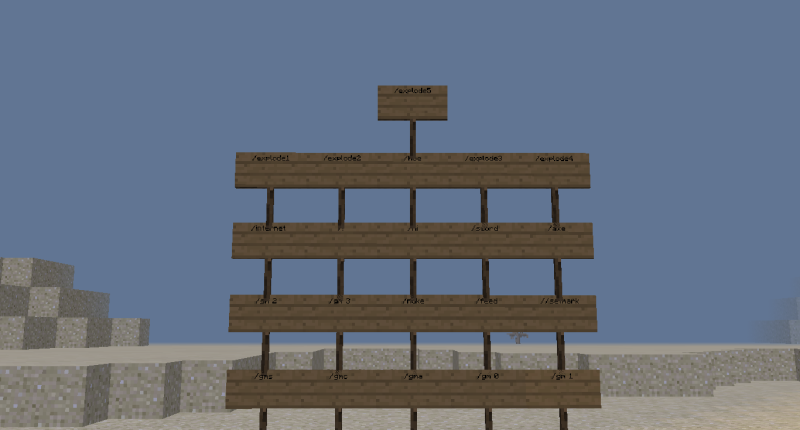 Project status
In development
Supported Minecraft versions
More Commands in Minecraft! Adds Over 25+ Commands To Mess Around With!
---
VERSION SUPPORTED: 1.4.1 The Bugfix Update
---
AUTHOUR: ADAM 1111
---
DESCRIPTION:
Bugfix || The /fw creeper command is now  /fw_creeper
Bugfix || The /fw burst command is now /fw_burst
Bugfix || The /fw star command is now /fw_star
Bugfix || The /fw smallball command is now /fw_smallball
Bugfix || The /fw largeball command is now /fw_largeball
Bugfix || All /fw commands do not show the USAGE message anymore
removed || /backpack command
removed || /backpack GUI
replaced || /backpack with /disposal
replaced ||  /disposal command opens a disposal GUI
replaced || We re-texured the Config GUI block 
---
                                                                                    FEATURES
/gmc
/gms
/gma
/gm 0
/gm 1
/gm 2
/gm 3
/nuke
/internet
/feed
//setmark
/hi
/!
/sword
/shovel
/axe
/hoe
/explode1
/explode2
/explode3
/explode4
/explode5
added a Mod GUI
/inf
/disposal
/thor
added a config block that opens GUI
/disposal  opens a disposal GUI
/sudo
/gmsp
/ping
/mystery
/fw creeper
/fw burst
/fw star
/fw largeball
/fw smallball
/fw
/spawner
---
---
HOW TO INSTALL THE MOD:
1. Download Forge 1.10.2 Copy & Paste link-> files.minecraftforge.net/maven/net/minecraftforge/forge/index_1.10.2.html#Downloads
2. Click on Forge then hit install
3. Do Windows Key + R then type %appdata%
4. Find .minecraft then click "mods"
5. Move the More_Commands_In_Minecraft 1.4.1 file into the mods folder
6. Select Forge 1.10.2 then boot minecraft then your done! Enjoy! :D